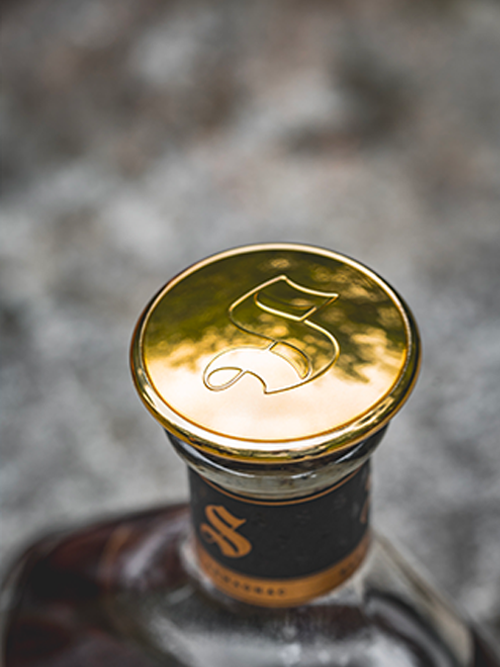 Our History
Samalens house has been distillating, blending and ageing eaux-de-vie since 1882 in Bas-Armagnac.
We place this ancestral know-how at the service of innovation to disrupt codes and offer new tasting experiences. We attempt to reveal the Armagnac potential and sublimate it, conserving the features making its identity: aromatic strenght, richness, and ageing potential.

Know-how
Distillery
Samalens house comprises quite an atypical distillery: four traditional pot-stills from Armagnac, and four traditional pot-stills from Cognac. The traditional distillation requires experience and continuous tasting during the entire process. To be as precise as possible, cuts are not standardized and depend on distiller's tastings.
Each eau-de-vie is aged in traditional Armagnac 450-liters barrel made of french pedoculate or sessile oaks. They are selected for their thin grain and slight toast to preserve the eau-de-vie aromas without too strong wood treatment. Aged in new barrels first, the Armagnacs are moved in used ones to be matured slowly until their bottling.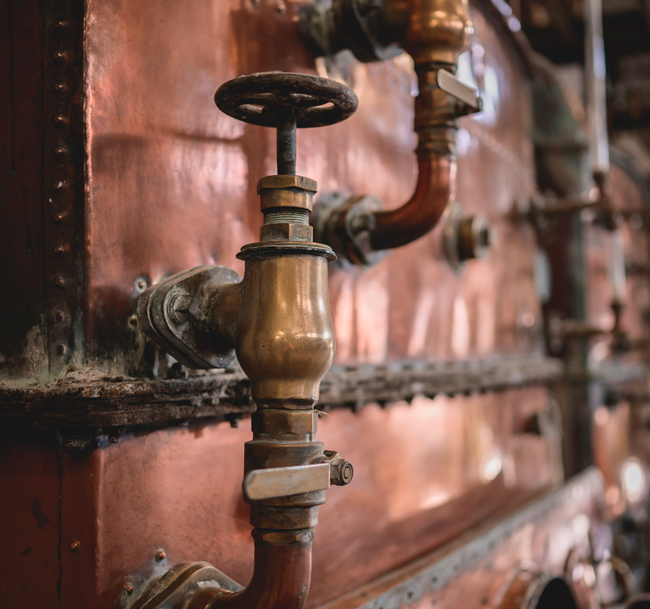 Our products
The range
---
V.S
V.S.O.P
Napoléon
XO
Vieille relique
Millésime
Single 8
Single 12
Single 15
Samalens Pineapple-Vanilla
Samalens Plum-Macadia-Vanilla
Samalens Grape-Fig-Vanilla
---
V.S
Young Armagnac's freshness and vivacity with first a mixology.
Tasting : Ambered color, pale gold. Fresh nose with floral notes. Citruses predominant in the mouth, with a bright attack.
Pairings : In a cocktail as the « Armagnac Sour ».
V.S.O.P
Balance between fruits freshness and complexity given by the wood, an eau-de-vie revealing the potential of young Armagnacs.
Tasting : Light amber color, gold. Fruity nose with slight woody notes. Soft in the mouth, with spicy finish and structured mid-palate.
Pairings : Its freshness balance soft chocolate or milk chocolates.
Napoleon
Mid-way between freshness and roundness, Napoleon combines the vivacity of young Armagnacs and the ageing complexity.
Tasting : Dark amber color. Rich and complex nose dominated by toasted notes. Strong cooked fruits mid- palate with vanilla finish.
Pairings : Naturally balanced, it fits well with peppered red meats.
XO
Witness of time effects, our X.O. is the achievement of complex blends. It open the door towards our eau-de-vie delicacy after long ageing period.
Tasting : Ambered color with brown highlights. Elegant nose with spices and vanilla notes. Round and generous with soft tannins and long finish.
Pairings : Balance fruits desserts with acidity like lemon or raspberry.
Vieille Relique
Our cellar master personal creation : a blend of 15-years minimum eaux-de-vie, only known by himself.
Tasting : Dark amber color. Delicate toasted nose. Very long in the mouth, dominated by candied fruits and prunes in mid-palate. Soft woody finish.
Pairings : Its complexity fits perfectly with Grand Crus chocolates, whose bitterness structures the Armagnac delicacy.
Millésimes
Each Samalens Vintage draws the quintessence of the year of harvest and distillation. A special care is brought to their ageing to ensure it does not become distorted. Each batch is duly tasted and approved by the cellar master before bottling
Single 8 years
Tasting : Nose of vanilla with rose petals and dry fruits (hazelnut, almond), followed by a slight liquorice aroma. In the mouth, intense floral then liquorice in the mid-palate and soft spices.
On ice : Evolution of the palate on plums, with apricot jam notes.
Single 12 years
Tasting : Yellow gold color. Nose reminding of Porto, with vanilla notes tending towards dry flowers (rose, violet), dry fruits and spices. Smooth in the mouth with spices on mid- palate and long finish with nuts aromas.
On ice : Becomes velvety with intense incence notes.
Single 15 years
Tasting : Dark amber color. Nose of cedar wood, tobacco and cigar, carried by spicy notes (nutmeg, saffron) and cadied fruits. Concentrated in the mouth, with balsamic aromas.
On ice : Smoother, with a more powerful finish.
Samalens Pinneapple-Vanilla
Tasting : Nose of vanilla slighly tangy. Round and tasty mouth, with a slight acidity brought by pinnapple. Woody finish where the Armagnac reveals itself.
Pairings : Its exotic profile fits well with seafood and cooked fishes.
Samalens Prunes-Macadamia nuts-Vanilla
Tasting : Nose of plum jam and apple compote. Soft mouth with candied notes, followed by fresh nuts aromas. Long finish dominated by the vanilla.
Pairings : Fresh fruits give it structure and help to taste even more its candied aromas.
Samalens Grape-fig-Vanilla
Tasting : Un nez de fruits confits accompagné d'un léger boisé. Légèrement végétal en bouche, une légère amertume s'équilibre immédiatement par la vanille et le boisé de l'Armagnac.
Pairings : L'aspect végétal ressort avec des pâtisseries à la crème, comme le tiramisu, ou l'éclair.